Google Cloud Platform (GCP) is a set of cloud computing services offered by Google. GCP is a public platform that offers IT resources, such as storage, compute, database, Big Data, application development tools, networking, and more. The GCP services run on the same cloud infrastructure that Google internally uses to run its end-user products, such as Google Photos, Gmail, Google Search, Google Drive, YouTube, etc. Software engineers, IT professionals, and cloud administrators can access the services provided by Google Cloud Platform over the Internet or a dedicated network connection.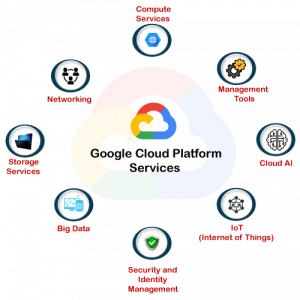 Why Choose Google Cloud Platform?
Since 2008, Google Cloud Platform is one of the leading cloud providers in the cloud computing field. Google has always been at the top among its competitors by offering the most reliable and highly scalable platform for building, deploying, and testing real-time application environments. 
Most businesses use traditional data centers because of hardware certainty, availability of cost forecasting, and advanced control. However, traditional data centers lack the most necessary features to maintain and run resources effectively. On the other hand, Google Cloud Platform is a fully-featured platform that offers:
Security: 

GCP offers multi-level security in order to protect resources, such as network, assets, OS components, and more.  

Capacity: 

Google Cloud Platform offers effective management of resources for optimum performance. GCP helps developers to choose sufficient resources whenever required in order to ensure easy scaling.

Bandwidth:

 GCP always provides the suitable bandwidth to run the application even during peak loads.

Network Infrastructure: 

Google Cloud Platform offers several logistical, physical, and human-resource-related components, such as routers, wiring, firewalls, switches, load balancers, and more.  
Therefore, GCP is a viable option for businesses, especially if they require extensive services with global recognition. 
Features of Google Cloud Platform 
Some of the key features offered by Google Cloud Platform (GCP) are: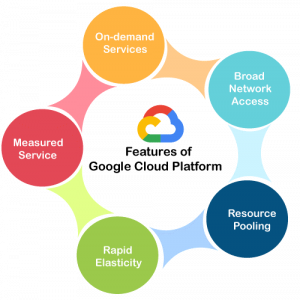 On-Demand Services: 

Google Cloud Platform provides automated environments with web-based tools that help businesses access required resources without human intervention.

Resource Pooling: 

GCP also offers a shared pool of computing resources to their customers on-demand.

Broad Network Access: 

The resources and information provided by Google Cloud are accessible from any part of the world.   

Measured Service:

 The easy-to-play feature offered by Google cloud helps businesses pay only for the consumed services, helping them reduce cost-effectively. 

Rapid Elasticity: 

All the GCP resources can be accessed by the customers at any time from anywhere. 
Pros of Google Cloud Platform 
There are several advantages of using GCP as the cloud provider, such as: 
With the help of Google cloud, multiple users can access the data and contribute their information simultaneously without interrupting each other since the data is stored on the cloud server.

Google adds new features and functionalities frequently to ensure high productivity. 

Google cloud protects user data by providing physical and process-based security features with the help of the Google security team. 

A user can access the information stored in Google Cloud from any part of the world as it is operated via web-based applications.

Google provides minor updates weekly instead of a huge change altogether, helping customers easily adapt and understand the new feature. 

Google uses several resources to provide reliable and higher up-time servers for customers. If there is a technical issue at one of the data centers, the system will automatically communicate with the secondary center without interrupting the users.
Google Cloud Platform (GCP) Pricing 
Google Cloud Platform is one of the cheapest solutions in the market when it comes to cost. Google Cloud is not only cost-effective but also offers more features and services than other cloud providers.
In comparison with other leading cloud providers, GCP offers more efficiency and benefits. A massive of 60% savings is offered by Google, including:
21% list price differences

15% rightsizing recommendation

24% of sustained usage discounts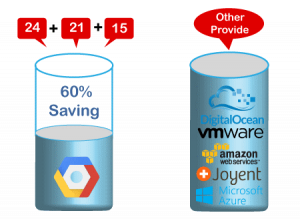 Some of the expected benefits of Google Cloud Platform pricing are: 
Pay-as-you-go:

 Similar to AWS, Google Cloud also offers its users with "use now, pay later" option, which helps customers to pay only for the services they use or already using. 

No Hidden Charges: 

Google Cloud Platform's pricing structure is straightforward, and there are no hidden changes behind this pricing. Google's pricing is also easily understandable by anyone.

No Termination Fee: 

Customers are free to stop using Google services whenever they need, and they won't be charged for the same. That means the moment a customer stops using the Google cloud services; they stop paying for it. 
Difference Between Google Cloud and Amazon Web Services
Like Google Cloud, AWS is one of the most popular cloud providers. However, there are differences between them. Some of the main differences between GCP and AWS are tabulated below: 
| | |
| --- | --- |
| Google Cloud | AWS |
| For computing purpose, Google cloud uses GCE (Google Compute Engine). | Amazon Elastic Compute Cloud (EC2) offers core compute services in AWS. |
| Google Cloud uses Google Cloud Storage to store data. | Amazon Web Services mainly uses Amazon Simple Storage Service (S3) to store data. |
| It offers the lowest pricing when compared to other cloud providers. | AWS pricing is generally cryptic. The overall structure of granular pricing is a bit complex. |
| Google Cloud uses subnet as their virtual network. | Amazon uses Virtual Private Cloud (VPC) as the virtual network. |
| Google Cloud follows the Cloud Load Balancing configuration | AWS follows the Elastic Load Balancing Configuration. |