IBM Cloud platform combines Infrastructure as a Service (IaaS) with Platform as a Service (PaaS) to offer an integrated experience for their customers. IBM Cloud platform scales and supports both large enterprise businesses and small development organizations and teams. IBM Cloud is deployed across data centers around the globe, which helps customers reduce their website latency. The solutions deployed or build on IBM cloud accelerate fast and perform reliably in both supported and test environments that they can trust.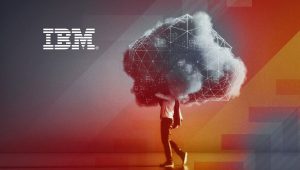 IBM Cloud offers solutions that enable higher security, compliance, and management levels, with proven architecture methods and patterns for rapid delivery. IBM Cloud also helps to run mission-critical workloads with ease. IBM Cloud data centers are available worldwide, across 19 countries with multi-zone regions in South and North America, Asia, Europe, and Australia. IBM Cloud is scalable to deploy both local and global applications.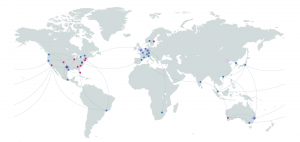 IBM Cloud provides the most secure and open public cloud for business with a next-generation hybrid cloud platform, AI capabilities, advanced data, and deep enterprise expertise across 20 industries. IBM Cloud also provides solutions for on-premise, public cloud, or a combination based on user needs:  
With IBM Public Cloud, the resources are made available to the customers over the public network. It offers a multi-tenant environment and resources, such as software, hardware, etc. The IBM organization manages the Infrastructure of the applications hosted in the IBM Public Cloud.

IBM Cloud also provides support for both hybrid multi-cloud and multi-cloud solutions. The support of multi-cloud and hybrid multi-cloud makes it easy for customers to work with multiple vendors. IBM Cloud Paks are software products for hybrid clouds that enable customers to develop and deploy applications anywhere at any time. 

A hybrid IBM cloud solution is a combination of private and public, giving customers the flexibility to shift workload between the two based on their technological and business needs. IBM uses Red Hat OpenShift on their cloud, making them the market's leading hybrid cloud container platform for hybrid solutions that helps customers build and deploy applications globally. With the help of IBM Cloud Satellites, users can create a hybrid environment that brings on-demand flexibility and scalability of public cloud services to their applications and data that runs on their secure private cloud. 

IBM Public cloud also offers Virtual Private Cloud (VPC) to establish a personal private cloud-like computing environment for users on a shared public cloud infrastructure. With the help of Virtual Private Cloud (VPC), businesses can control and define a virtual network that logically separates all other public cloud tenants by creating a private and secure place on the public cloud.
With the help of IBM's open-source technologies, such as Red Hat OpenShift, Kubernetes, etc., and a full range of compute options like containers, virtual machines, serverless, and bare metals, users have the flexibility and control required to support the workload in the hybrid environment. Customers can deploy cloud-native applications while ensuring workload portability using IBM Cloud.
IBM Cloud Platform 
The IBM Cloud platform consists of multiple components that simultaneously provide a dependable and consistent cloud experience. IBM Cloud platform can develop and deploy a new application or modernize the existing code. Developers can easily tap into the rapidly growing cloud computing ecosystem of available services and runtime frameworks using the IBM Cloud platform.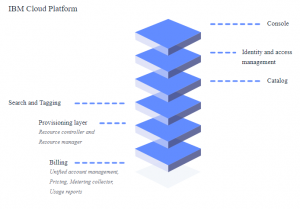 IBM Cloud platform consists of a robust console that serves as the front-end for viewing, creating, and managing customers' cloud resources.

The catalogue part available in the Platform consists of hundreds of supported products.

The Identity and Access Management (IAM) component of the Platform helps authenticate users for platform services securely and control resource access consistently across IBM Cloud.

IBM Cloud platform also consists of a search and tagging mechanism for identifying and filtering its resources.

The provisioning layer in the IBM Cloud platform helps customers to control and manage their resources. 

An account and billing management system of the IBM Cloud platform provides information about the exact usage for pricing plans and protects the environment from credit card fraud.
Billing and Pricing
The pricing details for each IBM Cloud service are available while browsing through the catalog on the official website. If a user chooses a paid service plan, they can estimate the total cost with the help of the cost estimator tool.
IBM Cloud billing offers multiple services to make sure that the IBM Cloud platform can securely manage accounts, pricing, usage, and more.
Account Management
Account management components of IBM Cloud helps to maintain the billing relationship with the customer. Each IBM Cloud account is a billing entity that represents a consumer. The Account Management service controls account subscription, lifecycle, organization, and user relationship.
Usage Metering 
With the help of the usage metering feature, service providers can submit metrics collected for resource instances that IBM Cloud customers create. Third-party service providers that deliver an integrated billing service must offer usage for all active service instances every hour.
Usage Reports 
With the help of the usage metering feature, service providers can submit metrics collected for resource instances that IBM Cloud customers create. Third-party service providers that deliver an integrated billing service must offer usage for all active service instances every hour.