OVH, legally known as OVH Groupe SAS, is a cloud computing that offers dedicated servers, Virtual Private Server (VPS), and other web resources. The OVHcloud Public Cloud offers numerous cloud solutions that can be billed on a pay-as-you-go basis. OVHcloud infrastructure is set up so that customers can harness the on-demand resources offered by OVHcloud for both small-scale and large-scale deployments. The OVHcloud is very flexible and scalable, making it easy for customers to use them on any scale of projects and deployments. OVHcloud offers a range of storage and machine learning solutions to its customers. In addition to that, OVHcloud provides a portfolio of services like data analytics services to analyze user data effortlessly. OVHcloud public cloud has built clear solutions from data ingestion to usage to help users control the expensive and start using the services quickly.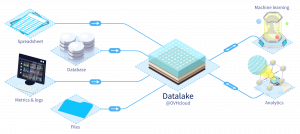 The Data Analytics service offered by OVHcloud offers a big data cluster feature helping customers deploy their fully secure Hadoop big-data cluster in a short span of time as under an hour. The data processing feature offered by the Data Analytics service helps customers to launch their Apache Spark processor quickly and easily. 
The OVHcloud public cloud offers a catalog of top-range instances with fully guaranteed performance for their customers. The general purpose instances offered by OVHcloud have a balanced distribution of services and are suitable for most businesses. The CPU instances can be used by customers looking for instances that particularly offer powerful computing capacity. The RAM instance provides a very high volume of memory, and hence it is helpful for customers looking for a lot of storage for their application. Some of the specifications of these instances are: 
Category
General Purpose Instance
CPU Instance
RAM Instance
Description
This instance helps users to deploy cloud instances with guaranteed resources and an ideal CPU/RAM balance for a wide range of uses.

The CPU instance helps customers to get cloud servers with guaranteed resources. Also, these instances are particularly well-suited for applications that require high computing power.

The RAM instance helps create the most suitable instance for memory-intensive applications, databases, and other storage-intensive uses.

Surname
b2
C2
R2
Memory
7GB – 120GB RAM
7GB – 120GB RAM
15GB – 240GB RAM
Number of Cores
2 vCores – 32 vCores
+2 GHz
2 vCores – 32 vCores
+3 GHz
2 vCores – 32 vCores
+2 GHz
Storage
50GB – 400GB disk space
50GB – 400GB disk space
50GB – 400GB disk space
Why Choose OVH Public Cloud?
The OVH Public Cloud offers corporate cloud solutions fully committed to its global strategy, known as SMART. The acronym SMART stands for: 
Simple:

 The Cloud services offered by OVH are fast and easy to use.

Multi-local: 

OVH public cloud data centers and networks are available globally for everyone to use and operate the servers anywhere. 

Accessible:

 The prices offered by OVH Public Cloud are one of the best on the market. The OVH Public Cloud prices are entirely predictable as there is no hidden cost that will fool the customers.  

Reversible: 

The Public Cloud offered by OVH uses all industry standards technologies that make them interoperable and open. 

Transparent:

 The clear communication and predictable pricing offered by OVH Public cloud make them transparent. 
OVH Public Cloud Regions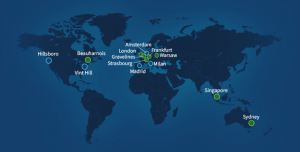 OVHcloud is available globally with a robust infrastructure spanning five continents and 183 countries, with 30 cutting-edge data centers and numerous points of presence. OVHcloud has designed and built its data centers and servers using the latest, most innovative components and maintains its worldwide fiber-optic network for more than twenty years. 
Features Offered by OVH Public Cloud
Some of the key features offered by OVH Public Cloud to their customers are: 
Scalability:
If a user is unsure what sort of CPU-RAM balance they require, they can use the instances offered by OVH Public Cloud for a smooth start. The OVH Public Cloud servers are scalable because customers can scale up or down the resources whenever required at any time.
Availability of 100% resources all the time: 
With the help of the guaranteed resources feature, OVHcloud users can harness the full power of their server at any time. The resources assigned with the server are 100% dedicated to that customer, giving them all the power they need for their projects or deployments.
Local SSD Disk: 
The hypervisors have hosted the virtual machine disks locally in OVHcloud to ensure optimal read/write performance. A RAID-mounted SSD disk array establishes these storage points to ensure efficiency and durability for user data.
Advantages of OVHcloud
Some of the pros of choosing OVH Public Cloud over other Public Clouds are: 
Open-Source: 
Open-source solutions are the most high-performance and well-developed offerings in the world of data, because of which OVHcloud has chosen to base with these solutions. Some of the open-source solutions offered by OVHcloud are Apache Spark suites and Apache Hadoop. 
Hybrid Cloud Architectures: 
With OVHcloud's private network feature (vRack), customers can connect the data analytics products to all other resources in their catalog: Dedicated server and Private Cloud. In this way, customers can always find and adapt to a solution whenever required in the future.  
Simple, Predictable Pricing:   
Unlike other cloud providers, OVHcloud works hard to offer understandable and straightforward pricing. To achieve this pricing strategy OVHcloud team does not bill traffic for the IT resources. 
Reversibility: 
OVHcloud takes the freedom and sovereignty of personal data very seriously. Customers can use standard protocols to recover their data at any time.