What is DigitalOcean?
DigitalOcean is a unique and straightforward cloud hosting provider. DigitalOcean offers cloud computing services to customers to deploy and develop applications that need to be run across multiple cloud servers. In addition, DigitalOcean provides a simple interface and set-up along with a very affordable price.
DigitalOcean infrastructure is one of the leading cloud service providers based in the USA. Even though the headquarters of DigitalOcean is located in New York City, their data centers are prevalent in each and every corner of the world to offer seamless cloud services across the globe.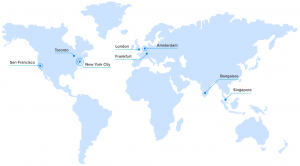 DigitalOcean achieved the title of third-largest cloud hosting company in the world in January 2018. DigitalOcean cloud allows developers to complete any task, such as spinning up a server (droplet), configuring storage, and more in a fraction of time. 
Why Choose DigitalOcean?
Many cloud providers are available in today's market, such as Microsoft Azure, AWS, Google Cloud, and more, so why choose DigitalOcean infrastructure? And some of the reasons to select DigitalOcean over other cloud providers are: 
No-Fuss and Aesthetic User Interface: 
Most popular cloud service providers overcomplicate things by offering advanced features compromising the user interface, cluttering it with extra features. But the user interface of DigitalOcean is functional, aesthetic, and without all the whistles and bells that complicate the user experience. The number of one-click features, buttons, and links is optimal in the interface to ensure access to the available functionality. However, this does not imply that DigitalOcean lacks functionality.
DigitalOcean is the perfect cloud provider to manage and deploy scalable web applications. Moreover, the one-click apps offered by the DigitalOcean interface are remarkably regarded among small-scale organizations and software developers. They allow customers to enjoy integration and automation with third-party tools.
Moreover, DigitalOcean offers straightforward and minimalistic APIs for the convenience of its customer. After generating an API, developers can invoke the APIs using standard HTTP tools, including curl. It also offers SDKs for all the developer tools while programming in Python, PHP, or another language of choice. These tools include various plugins and libraries.
Exceptional Performance:
Every developer demands high-quality performance from their cloud hosting providers, and DigitalOcean offers the same. DigitalOcean is one of the first providers of SSD-based virtual machines. In addition, DigitalOcean utilized IPv6 before any other service providers even considered it. As a result, the droplets offered by DigitalOcean have a lightning-quick boot time that slates in less than a minute (around 55 seconds).
The cloud servers offered by DigitalOcean are on powerful Hex Core machines with dedicated RAID SSD storage and ECC RAM. Furthermore, it provides private networking among the Virtual Machines for running distributed systems and database clusters in a few selected regions.
Affordable Pricing: 
DigitalOcean pricing makes it stand apart from its competitors as it offers similar hosting services for a much affordable price. The basic plan of DigitalOcean starts at $5 per month. 
It also provides monthly and hourly payment options, making it very affordable for individual software developers and small startups to adopt the DigitalOcean platform. Moreover, DigitalOcean ensures high performance despite its pocket-friendly arrangements for software developers. This is the reason why DigitalOcean infrastructure has become one of the most successful cloud computing providers.
Active Digital Community:
One of the most incredible things the DigitalOcean cloud platform offers is an active digital community that assists everyone by holding feedback discussions and answering queries. These discussions have proven to benefit many users. 
DigitalOcean infrastructure has always included modern cutting-edge technologies, even if they have not matured completely. In addition, the community experts of DigitalOcean are available to help customers with their bundles of knowledge so that the customers can enjoy the freedom of mobility with little to no restrictions at all.
DigitalOcean Regions
The DigitalOcean data centers are available in the following regions:
NYC1, NYC2, NYC3: New York City, United States

TOR1: Toronto, Canada

SFO1, SFO2: San Francisco, United States

BLR1: Bangalore, India

SGP1: Singapore

LON1: London, United Kingdom

AMS2, AMS3: Amsterdam, the Netherlands

FRA1: Frankfurt, Germany
DigitalOcean Vs Amazon Web Services (AWS)
In reality, DigitalOcean is not a competitor of Amazon as it targets small development teams and individual users who want to stage up small instances with high performance. Many usually go for AWS as their cloud provider because of its popularity. However, if a person is looking for a cost-effective computing solution, DigitalOcean is the best option. The below table represents some of the differences between DigitalOcean and AWS: 
| | | |
| --- | --- | --- |
| Parameter | DigitalOcean | AWS |
| Focus Area | DigitalOcean mainly focuses on small applications and individual developers. | Amazon focuses on every business, such as large enterprises, small industries, and even individual users who can afford big-scale applications. |
| Best Feature | Digital Ocean offers affordable pricing and fast and easy server deployments. | Amazon Web Servers offer a wide range of resources and services to integrate with its servers. |
| Security | DigitalOcean provides physical security in their data centers as an additional feature. As a result, their data centers are secure, and the infrastructure is protected from physical threats to block unauthorized entry. | AWS offers lots of security tools that help in securing user data. For example, GuardDuty, which is an AWS service that allows customers to detect threats. It also helps to monitors unusual APIs and activities. |
| Best used by | DigitalOcean is the best choice among all other cloud providers if a user is looking for MySQL instances. | If someone is a DevOps professional working for an enterprise, then they do not have spare time for updating and installing patches in the instances, then Amazon is the right option for them. |
| Mobile Friendly | Yes | No |
| Pricing | From $5 to $640 per month for an entry-level server. | From $14 to $2500 a month for an entry-level server. |
| Payment modes | Credit card, Paypal. | Credit card |
| Key Features | Reliable, Easy Management, AutoScaling. | Great community, Easy configuration, Simple dashboard, and more. |
| Type of Cloud | DigitalOcean is an Infrastructure as a Service (IaaS) type of cloud. It allows users to manage databases, operating systems, and even security. | On the other hand, Amazon Web Servers is a Platform as a Service (PaaS) type of cloud. It assists users to support managed services and controls everything on its own except applications. |