Alibaba Cloud provides a comprehensive set of global cloud computing services to power Alibaba's eCommerce ecosystem and other online businesses. Alibaba Cloud's global operations are registered and headquartered in Singapore. Alibaba Cloud is also known as Aliyun, meaning Ali Cloud in Pinyin. Alibaba Cloud also has international teams stationed in Frankfurt, London, Hong Kong, Dubai, New York, Seoul, Paris, San Mateo, Singapore, Tokyo, and Sydney. Alibaba Cloud is a cloud computing provider most common in Asia, especially in China. 
Since 2009, Alibaba Cloud has been one of the leading providers in Artificial Intelligence (AI) and cloud computing. Alibaba Cloud offers cloud computing resources and services to thousands of government organizations, developers, and enterprises in more than 200 countries and regions.
Alibaba Cloud was initially focused on the Chinese market, but since 2015 it has eventually spread its business to most neighboring countries. In 2015, Alibaba Cloud opened its first data center in the United States and launched another data center in Europe the following year.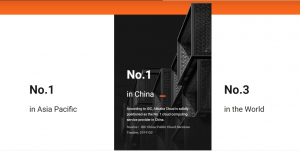 Alibaba Cloud's growth is associated partly with the booming Chinese economy, as the Chinese government continues to digitize and bring its agencies online and into the cloud. In addition, Alibaba Cloud holds the "Amazon of Asia" status as it is the principal eCommerce system in China. 
For the past years, the outstanding growth of Alibaba Cloud is driven by its aggressive spending on Research and Development (R & D) on its cloud services. As a result, Alibaba Cloud's investment in R&D has been relatively higher than the other large-scale cloud providers for the last few years.
Another thing that drives the growth of Alibaba Cloud in today's market is the scalability offered by cloud services. When adopting the cloud, scalability matters a lot for businesses, especially for the Infrastructure as a Service (IaaS) category.
Furthermore, Alibaba Cloud has been investing hugely in developing massive data centers across several regions worldwide. Today, it has 63 availability zones in 21 global regions, with a more substantial presence in India and other Asia Pacific countries. However, Indonesia and Malaysia are the countries where Alibaba Cloud has the longest-standing presence.
Why Choose Alibaba Cloud?
Some of the reasons to choose Alibaba Cloud over other cloud providers are: 
Alibaba Cloud offers data centers across the globe: 
Alibaba Cloud provides 26+ data centers within 15+ regions worldwide, and it is growing every day. Alibaba Cloud promptly operates in several locations like Japan, Singapore, Hong Kong, Australia, Germany, Dubai, and the United States. Alibaba Cloud is already growing its international customer base by adding more regions and data centers.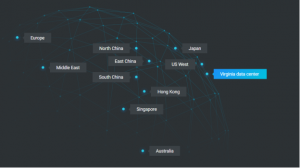 Alibaba Cloud offers a wide range of resources and products:
Alibaba Cloud provides 100+ cloud services to their customers from computing, networking, storage, databases, middleware, security, and more. Alibaba Cloud offers elastic computing power and high performance in the cloud. Services offered by Alibaba Cloud are available on a pay-as-you-go basis. Alibaba Cloud also provides relational databases, data storage, big-data processing, content delivery networks (CDN), and anti-DDoS protection services. Alibaba Cloud is perpetrated to the research and development of advanced big data technologies and large database systems. Alibaba Cloud also offers services to advance IoT (Internet of Things) technology, smart homes, virtual reality, cloud-based mobile-device operating systems, and automotive networking and information systems.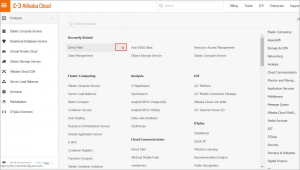 Competitive Pricing:
Most cloud providers offer a purchase term of one to three years. In addition, while some providers offer pay-as-you-go, some offer a subscription basis, and some providers enable on-demand payment terms. However, Alibaba Cloud provides all these purchase terms on offer.
Customers can buy Alibaba Cloud on a pay-as-you-go basis, subscription, reserved instance, and preemptible instance. This helps customers to spend money based on their business needs.
Moreover, customers can choose whether to pay upfront, pay partial upfront costs, or avoid upfront costs.
Alibaba Cloud provides cloud computing services with flexible purchase options. Customers can use the prepay option to maximize their savings or choose pay-as-you-go options for the payment. In addition, Alibaba Cloud offers high Performance on SSD Cloud Server ECS for a cost as low as $ 4.5/month. Alibaba also provides Web Hosting options starting from $0.99/month, which is perfect for SMEs.
Higher Number of Virtual Machines Processors:
When it comes to virtual machine processors, Alibaba Cloud offers more processors than traditional and other cloud providers.
This helps businesses that use mission-critical computing applications and have heavy server workloads. The additional processors will help boost the performance of the application and improve the efficiency of resource usage.
Proven Customer Success Stories
Many customers across different verticals and industries around the globe are using Alibaba Cloud to scale their business. Alibaba Cloud is also a Worldwide Cloud services Partner for Olympic Games.
Pros of Choosing Alibaba Cloud
Some of the advantages of choosing Alibaba Cloud over other cloud providers are:
A wide range of products and services.

Growing strongly and rapidly.

Reasonable and affordable pricing plans.

Top-notch security features.
Alibaba Cloud is the leading cloud provider in China and most Asian Pacific countries. But unlike other Alibaba ventures, Alibaba Cloud has entered the market aggressively and is looking to compete directly with other top-notch cloud providers. As a result, customers need to choose their cloud providers based on their specific business needs, such as features, budget, security, and more.