Linode is an American-based cloud hosting company that offers virtual private server (VPS). Linode Cloud is based in Philadelphia, Pennsylvania, United States. The company's name, "Linode", is a portmanteau of the words "Linux" and "node". Linode was founded by Christopher Aker in 2003, who wanted to offer seamless hosting services to companies, website developers, and government agencies.
Linode is the most comprehensive and independent open cloud provider serving businesses of all sizes. Cloud computing is the delivery of computing services, such as storage, servers, networking, databases, intelligence, software, analytics, etc., over the cloud. The mission of Linode cloud is to accelerate innovation by making cloud computing simple and accessible to everyone. Linode cloud offers flexible resources, faster innovation, and economies of scale to all their customers. While using Linode cloud services, customers only need to pay for what they use, helping reduce the operating costs. In addition, Linode also helps to run the application infrastructure more efficiently. All the users of Linode cloud can scale up or down the resources whenever the business asks for them. 
Linode believes that in order to expedite innovation in the cloud, virtual computing must be more affordable, accessible, and straightforward. The Linode's Infrastructure as a Service (IaaS) platform is deployed across 11 global markets from its data centers around the globe. In addition, Linode cloud is supported by advanced APIs, comprehensive services, Next Generation Network, and a vast library of educational resources. The services, products, and people offered by Linode cloud helps developers and businesses to deploy, build, and scale applications more efficiently and cost-effectively in the cloud.
For nearly two decades, developers rely on Linode cloud infrastructure to host and build their Linux-based applications and data. Developers are aware that cloud computing is all that Linode does, and they do not operate subsidiaries in markets that compete with their customers. Developers respect and appreciate the longstanding commitment and transparency of Linode cloud. Developers embrace the independence offered by Linode. Linode has proven time and again that they look forward to customer satisfaction and not investments. Linode is one of the cloud providers that developers trust because they offer an alternative to the complex, costly, and competitive choices available in the market.
Why Choose Linode?
Whether a user manages enterprise infrastructure or works on a personal project, Linode offers the most affordable, accessible, straightforward platform. Linode cloud provides the support, pricing, and scale required for all types of projects and ideas. 
People mainly choose Linode because they demand a more dependable customer support experience. Other cloud providers deprioritize support in pursuit of maximizing revenues and lowering costs. Chris Aker always states that "Nothing beats the first-response resolution, and nothing beats a no-tiered customer support department." So the mission and independence of Linode cloud that drive them to a different standard are that the user is the driving force behind everything they do.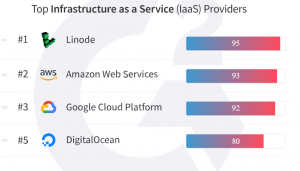 Cloud Infrastructure as a Services (IaaS) is the fastest-growing segment of the enormous $257 billion cloud computing industry. The public cloud (IaaS) segment is expanding at 22% year after year and is expected to reach the $64 billion industry by 2021.
The cloud has fundamentally changed how we live, work, and play over the years. Its network of remote servers store, process, and manage data to help companies, governments, other organizations, and individual software developers to reduce the complexity and cost of owning and operating their resource-intensive and capital systems. Applications and data are more accessible to more people with the cloud wherever they are connected to the Internet. So, Linode cloud has entered the cloud computing industry since 2003 to offer a platform for customers to build, manage, and process their data and applications. 
Features offered by Linode Cloud
Some of the features offered by Linode cloud are:  
Predictable Pricing: 
Linode cloud offers predictable, pay-as-you-go, and transparent pricing. Linode cloud establishes a predictable flat pricing model for cloud computing. As a result, customers have no more anxiety over hidden costs and murky pricing calculations that show up in their monthly bills. Instead, Linode promises customers pricing that is easy to budget for and understand.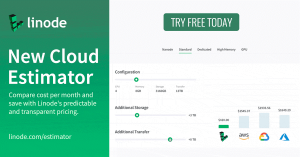 Cloud Simplified: 
Linode helps customers to quickly launch, manage, and scale their applications and data in the cloud. In addition, Linode cloud offers flat pricing across all the data centers globally. Linode provides:
Full-featured APIs,

An intuitive cloud manager,

Award-winning support, and

Best-in-class documentation.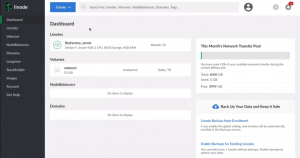 Global Infrastructure:
Linode cloud offers secure, reliable, and proven enterprise-grade infrastructure for their customers. Linode has 11 data centers worldwide and offers extensive peering relationships. In addition, Linode delivers the modern performance and infrastructure that customers need to innovate at scale with the help of their Next Generation Network (NGN) service.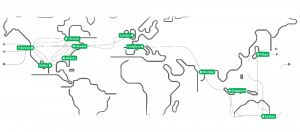 The craft of Code: 
The craft of code feature is the latest innovation offered by the Linode cloud community. With the help of this feature, customers can share customers stories and case studies of entrepreneurs, enterprises of all sizes, and developers from all over the world. These studies and reports are then analyzed and utilized by the Linode cloud community to offer affordable, simple, and accessible cloud computing for everyone.
Mitigate Risk:
Relying on a single cloud provider for infrastructure puts the customer at risk. So instead, Linode cloud works with multiple providers to ensure that the customers always have other options.
Deploy and Control Cloud effortlessly:
Managing and migrating applications to the cloud is sometimes considered painful or complex. That is why Linode was built with simplicity in mind. The easy-to-use control panel and APIs of the Linode cloud allow customers to set up and run their applications very fast in the cloud. In addition, the developer-level access offered by Linode ensures complete control of the application infrastructure.